Historical Parks Information Centre
2020
In the 19th century building, the distillery of the palace complex, we created Historical Parks Information Centre. There are three main spaces we had chance to revive: Hall area with reception desk, rounded plan bench with composition of plants and a map of the park lakes. Education room with the reminiscence of historical distillery equipment and the exposition which is located in the underground floor. The main material we chose to use was plywood, as its aesthetics and plasticity gives space for creativity and unifies the newness.
In collaboration with #Processoffice
Photography by #Norbert Tukaj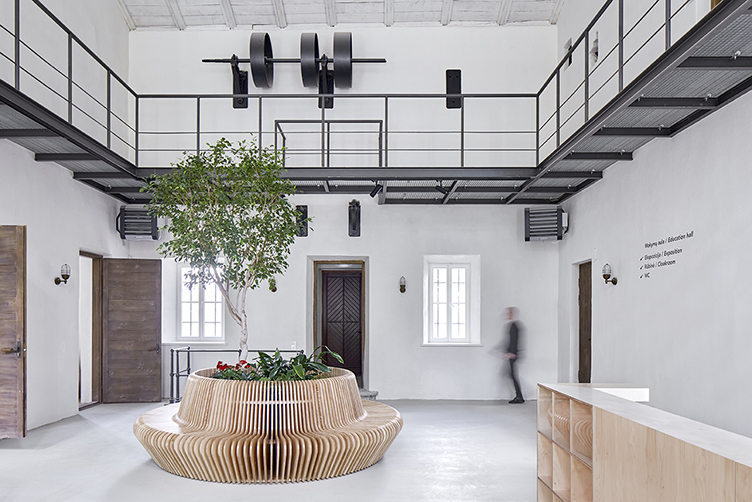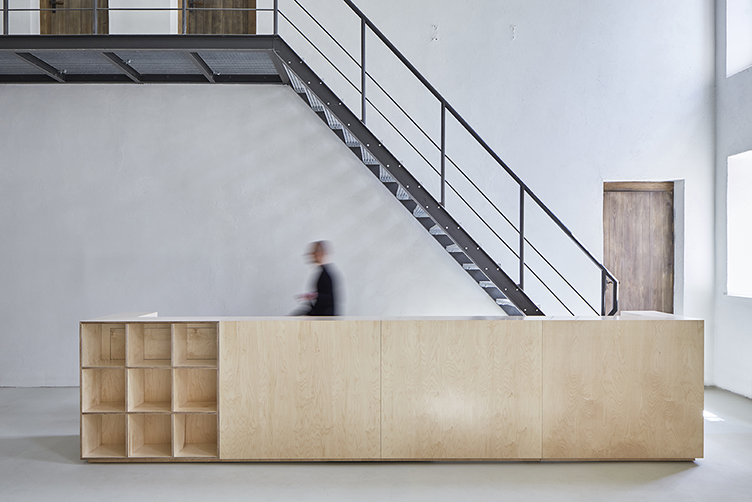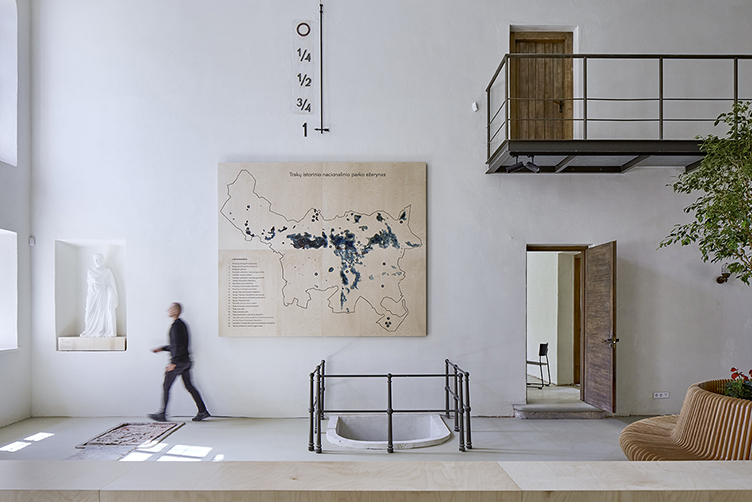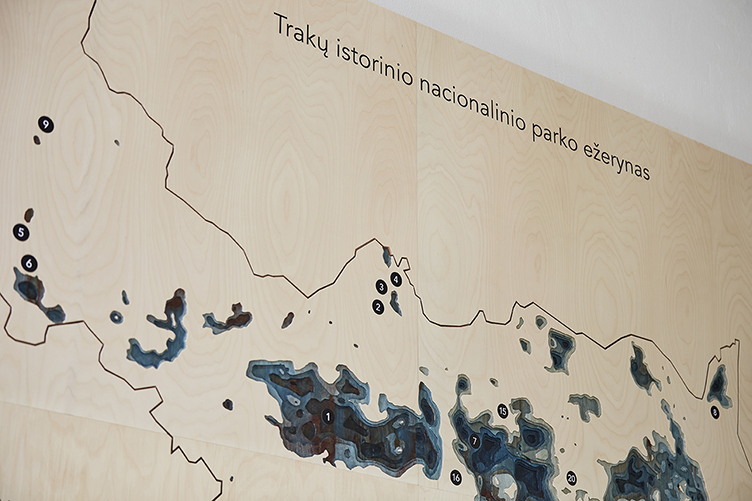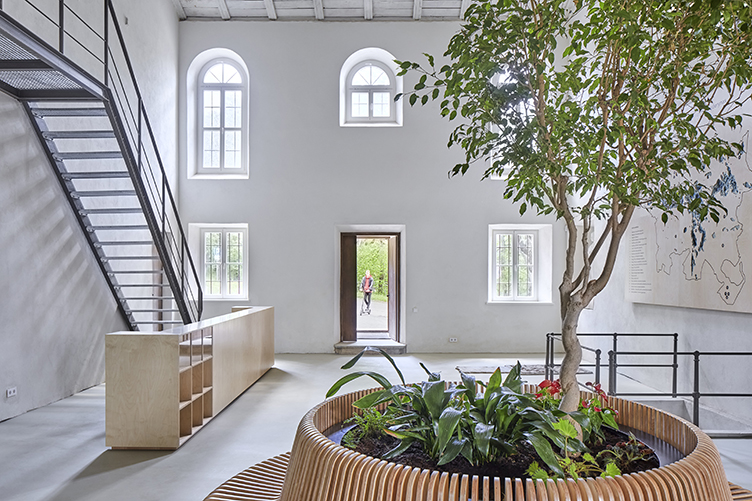 Education room was designed to accommodate seminars, small film festivals or other group activities. The inspiration for this room comes from old distillery aesthetics with minimalistic steampunk objects and drawings on the wall.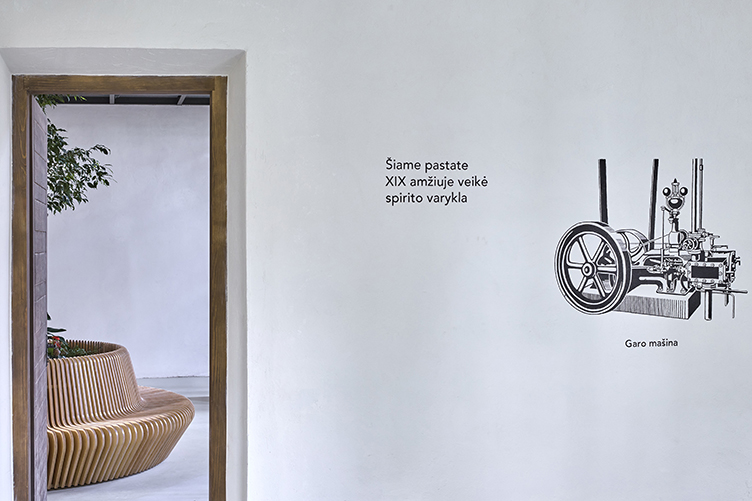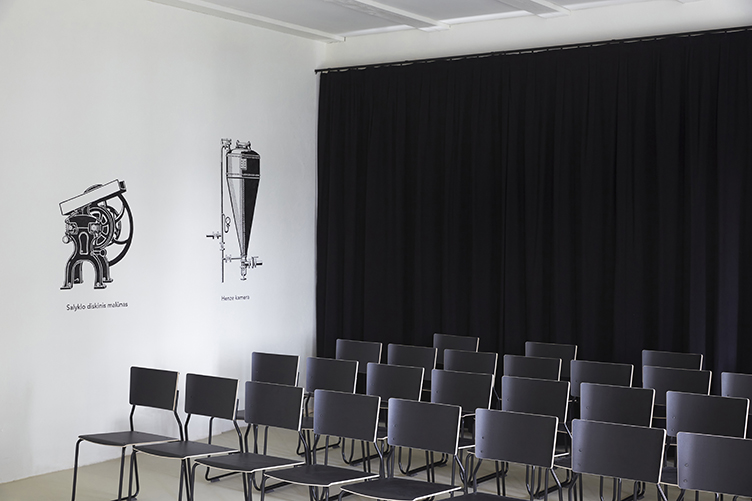 Exposition covers two cellar rooms which have arch ceiling, therefore have only few vertical walls. The main theme of the exposition - historical parks. First room covers E. Andre's (french landscape architect and botanist, who has created four parks in Lithuania back in 19th century) works around the globe and in Lithuania, and shows main principles he used to create a park.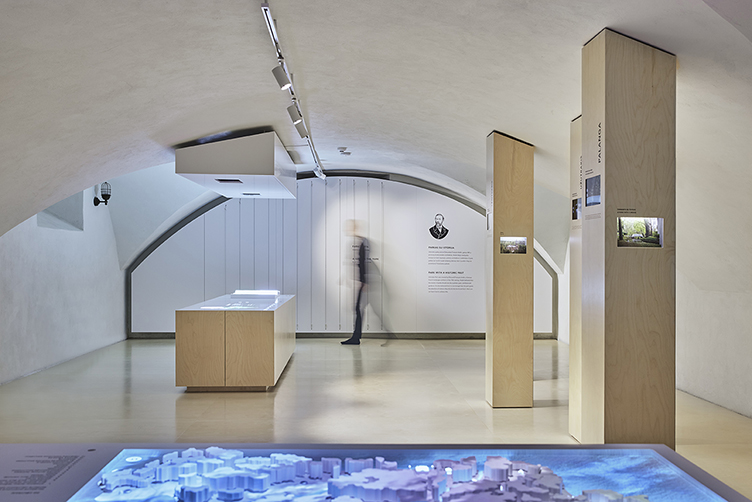 A harp in the park - each string has note that is a different sound of nature that you can hear while being in the manor estate.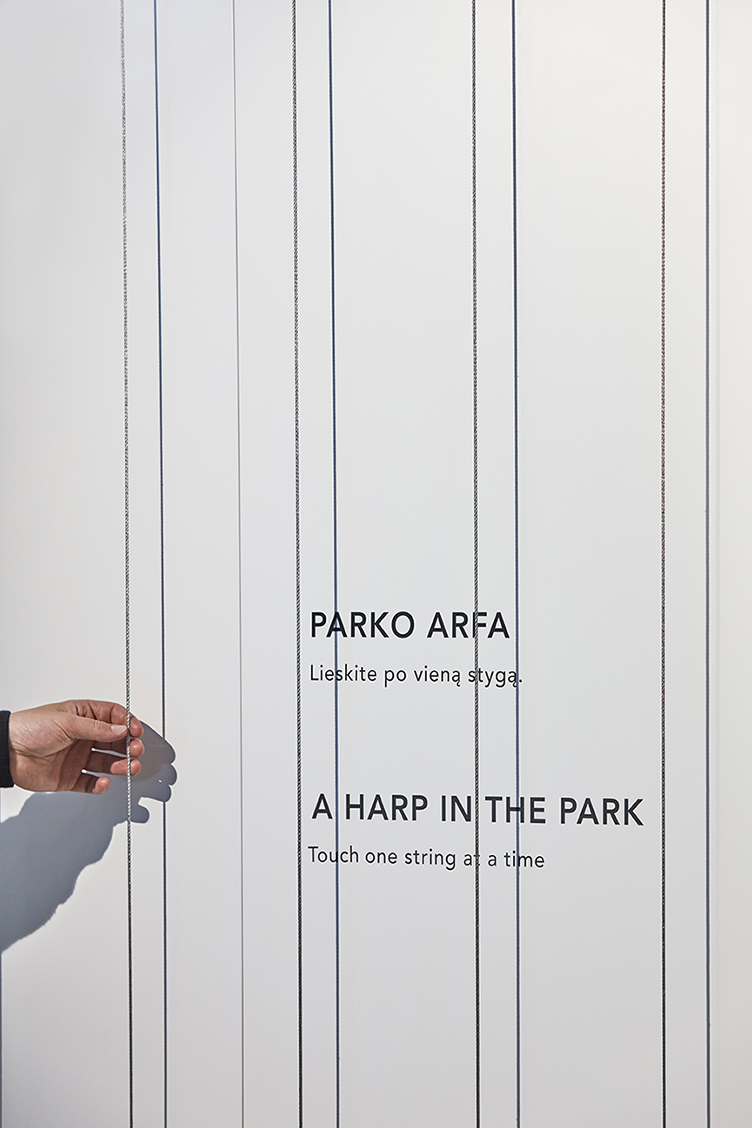 An interactive book - short version of A. F. Andre book "Parcs et Jardins" that writes about principles of park building, how to compose expositions and give certain experiences to visitors, moreover he suggests how to maintain and choose plants for specific parks.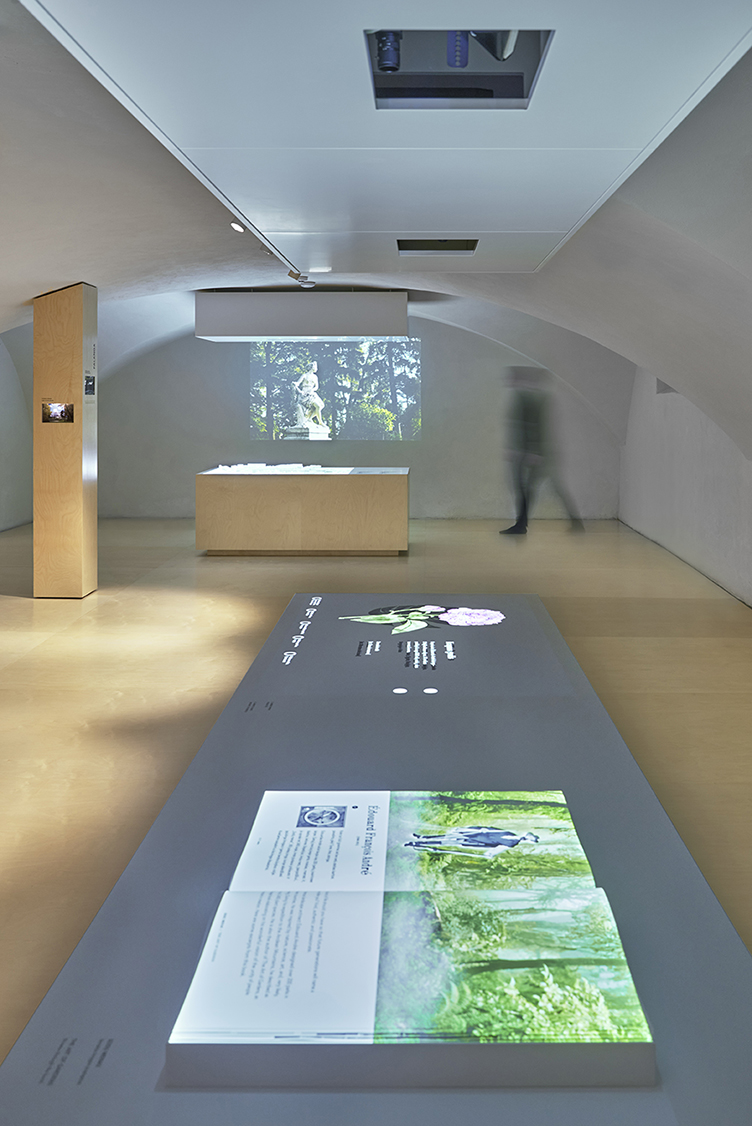 E. Andre's parks around the world - is an installation where visitors are welcomed to discover few parks Andre created around the globe. On an interactive table with sensors, one can find information about the most iconic parks while positioning hand above the surface of the table in a certain proximity.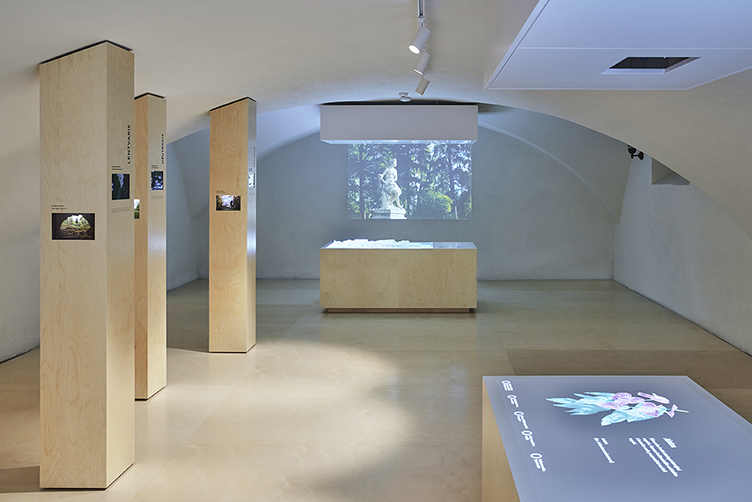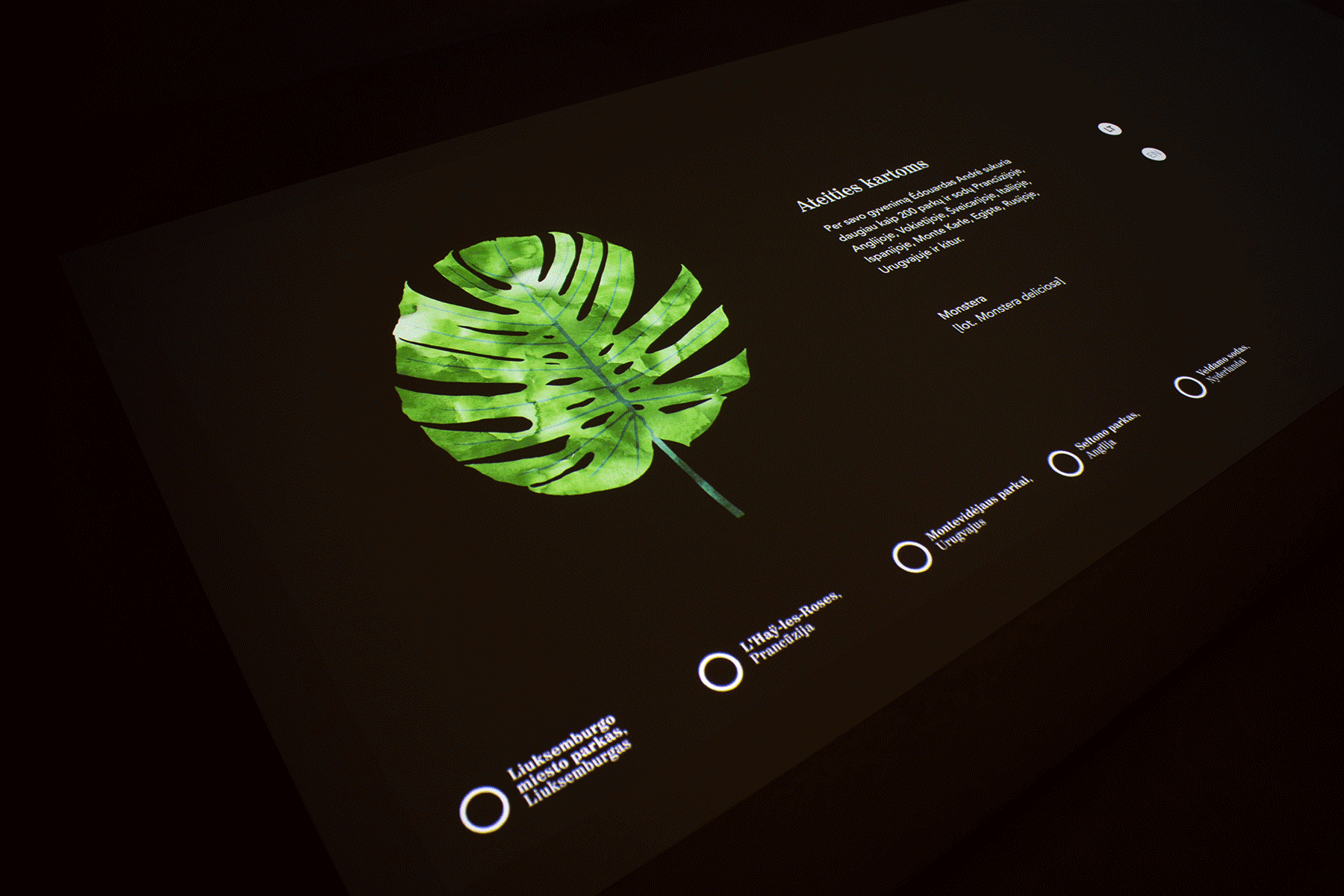 E. Andre's parks in Lithuania - discover similarities and differences of each park while watching a short informational video and small collages of the most iconic places.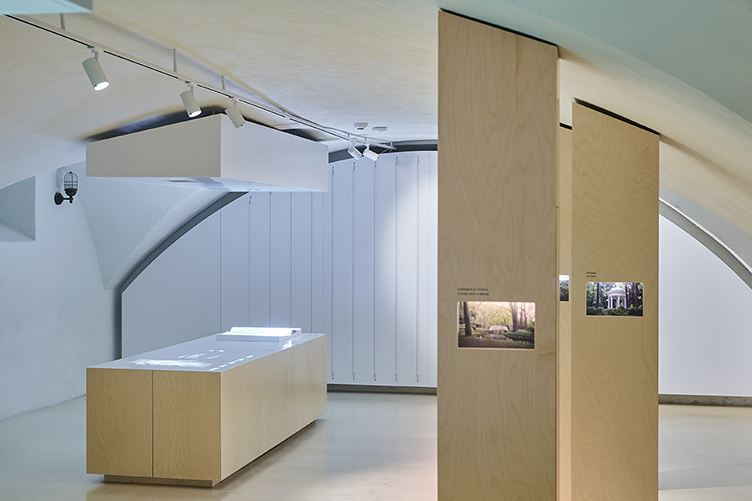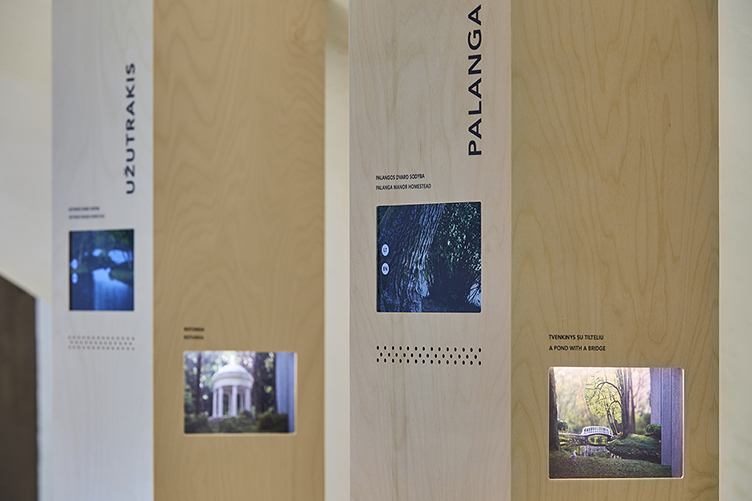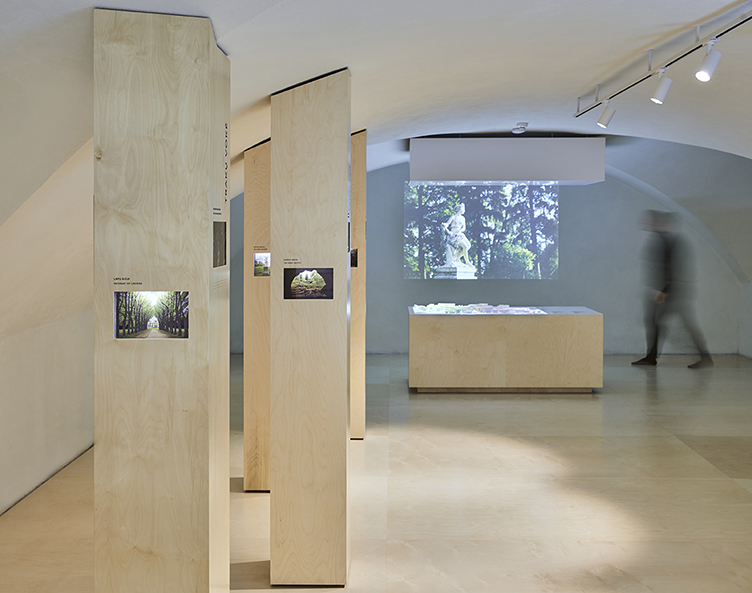 Užutrakis tour - an interactive model of Užutrakis manor estate supplemented with seasonal change projection where one can discover more details about each object or place in the park by touching small buttons. Information is given by audio visual projection on the wall.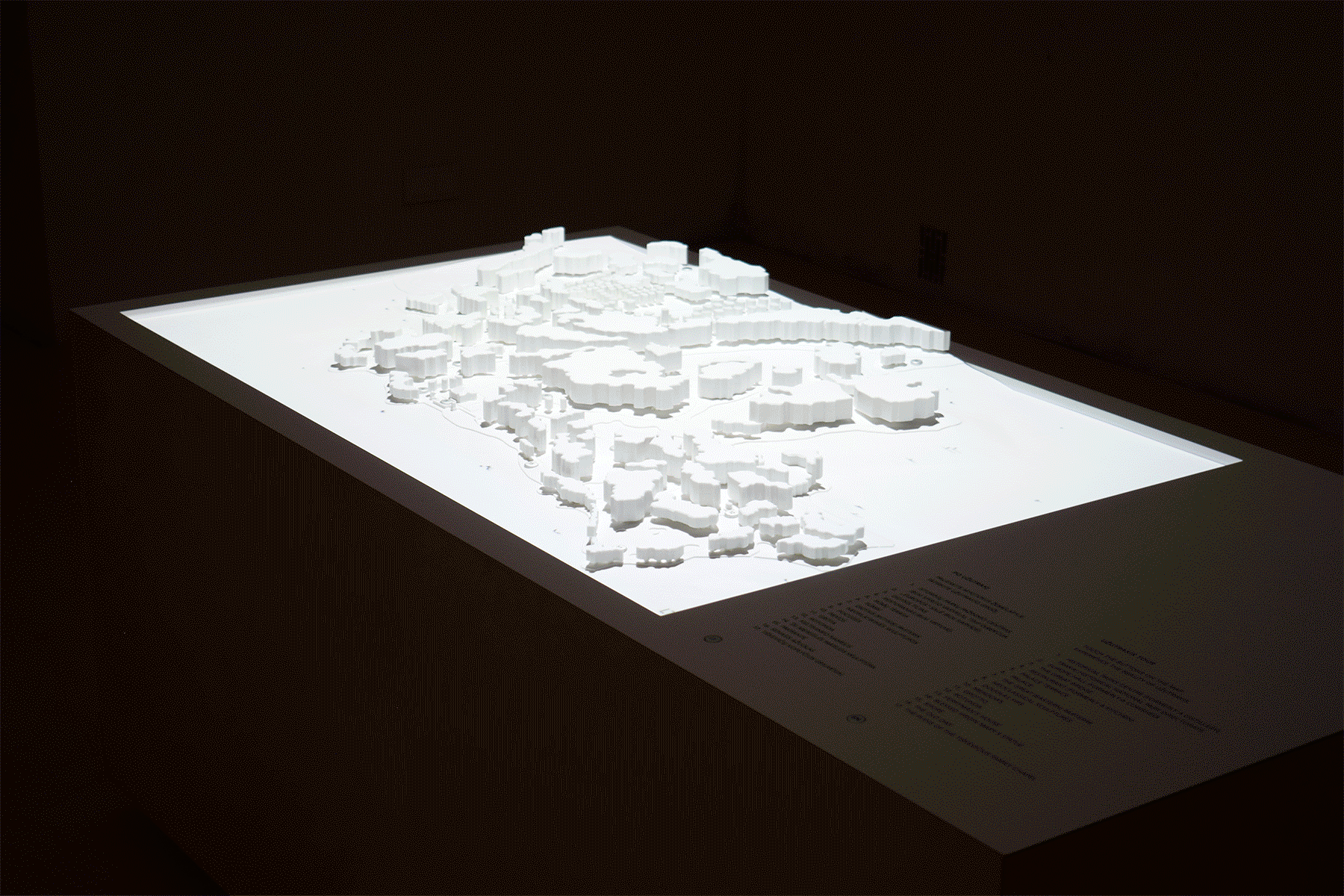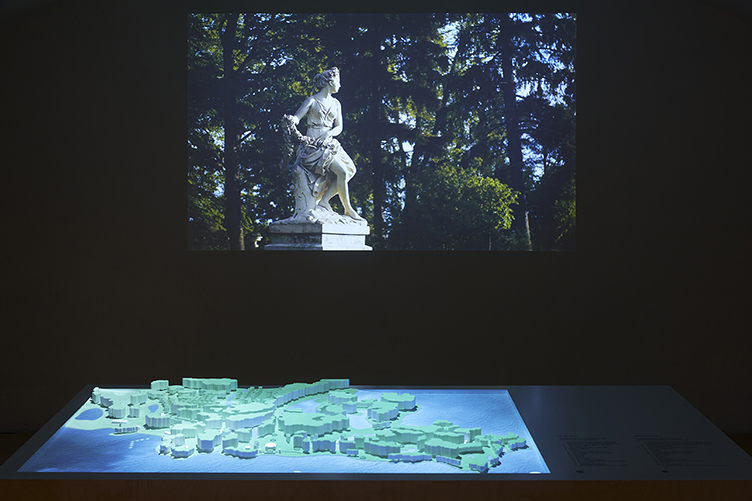 The next room is dedicated to Trakai Historical National Park: its history and main values (cultural, botanical, architectural and etc.) it has to offer. Some values are presented in 360 glasses with virtual experience of the most spectacular areas around Trakai.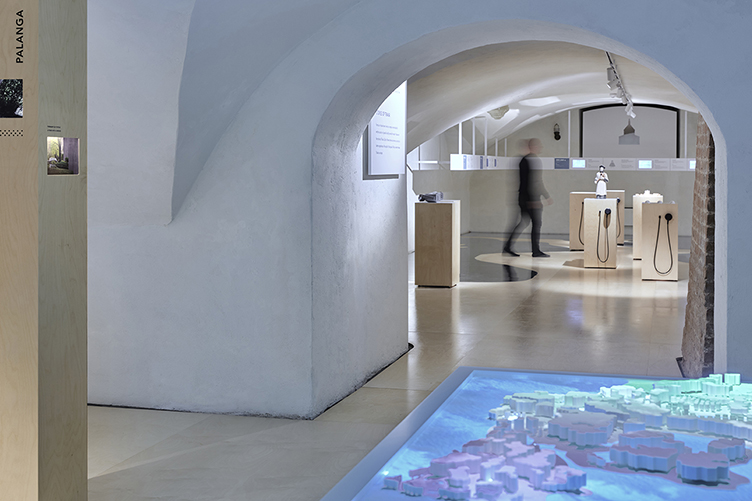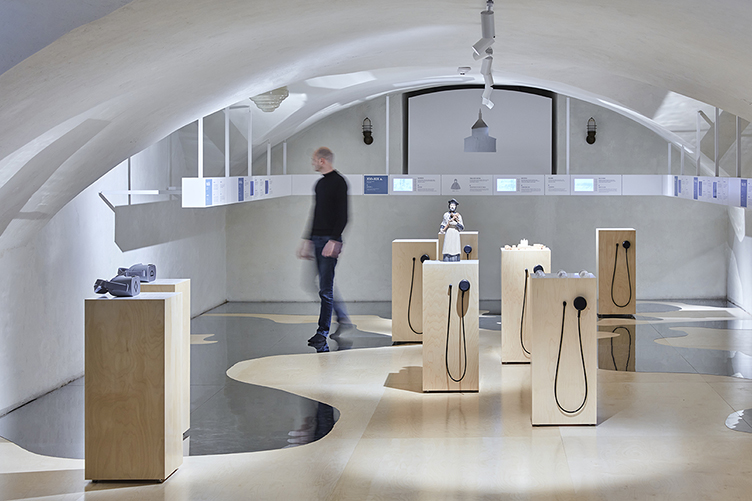 Visitors are welcomed to walk through the box shaped structure of time line and to access historical periods of Trakai. Some facts are illustrated with audio visual information showed within tablets.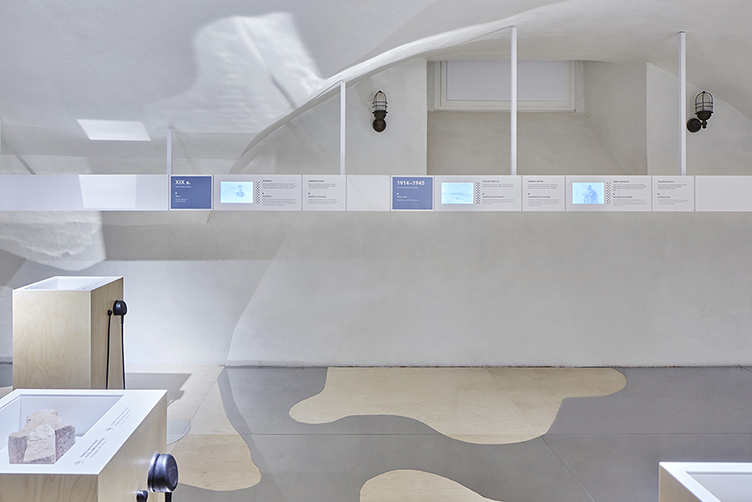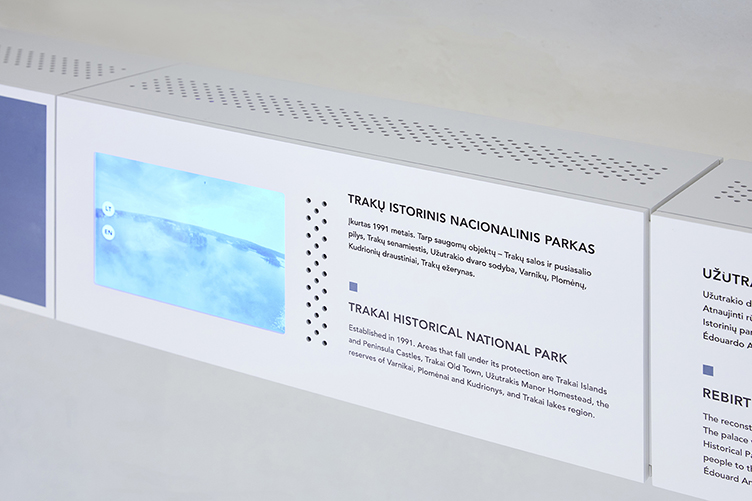 To show values of Trakai, we created system of columns. Each of the column presents actual value and has authentic audio story told by locals.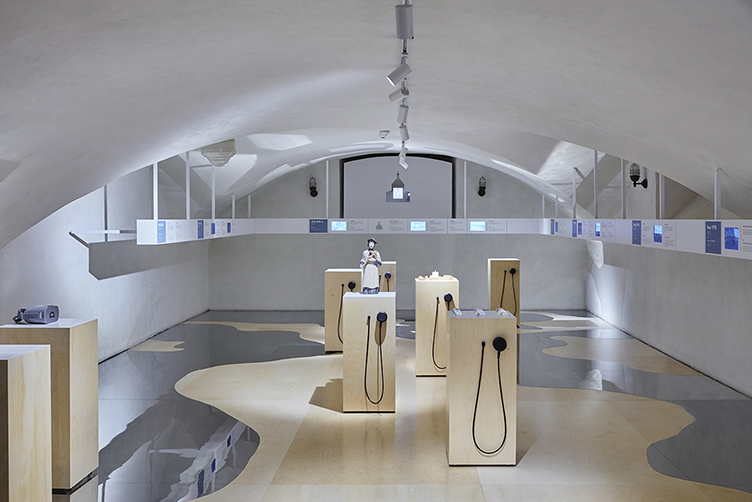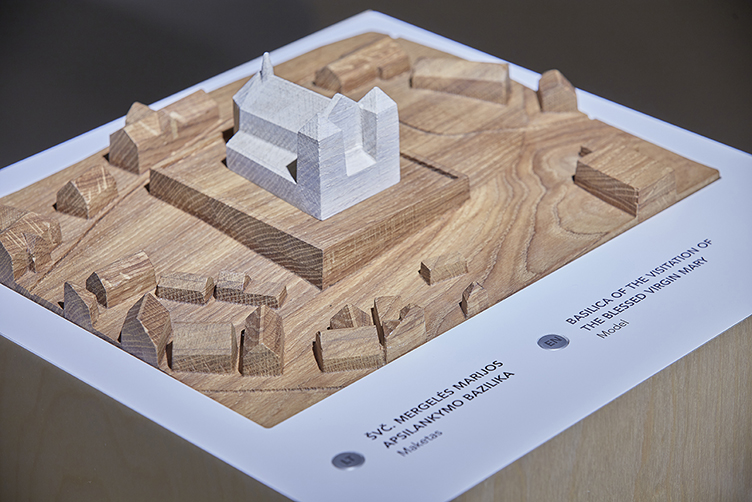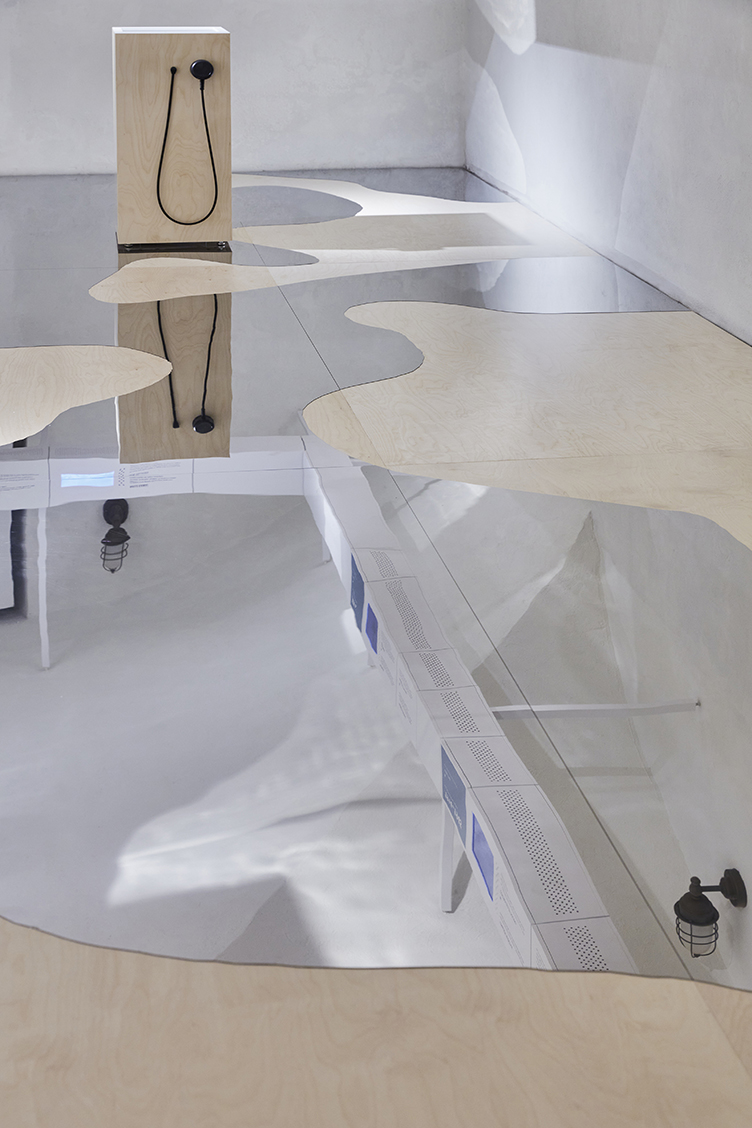 The mirroring floor is a metaphor for the unique geographical place Trakai is located, as it is surrounded by lakes. Therefore we used mirror to show the actual map of the area.